When I was initially asked if I wanted to attend the Stokes Bay Festival last Sunday, I wasn't so sure that I did. It was mainly finances that put me off, but luckily I thought to myself 'fuck it, I'm going to go'. Excellent decision, aided by the addition of Alabama 3 to the line up, alongside Levellers, Phil Jupitus and the Blockheads, 3 Daft Monkeys and Bellowhead among others.
When I first arrived, my initial doubts seem to have been correct. In front of the main stage was lined right to the back of the big top with people sprawled out in fold-out fucking chairs. It was absolutely rammed. The first band I really watched were 3 Daft Monkeys, who play energetic pirate folk, which sounds like they have been all over the world, but still rooted in British folk. Good fun. I then didn't really catch much of anyone else into Bellowhead, and allowed myself to peruse the real ale bars and food stalls. The curry wasn't great, but the beer was excellent.
Bellowhead, billed as the largest sound in the British folk scene, are a band the size of a football team that play renditions of traditional tunes, such as Gallows Pole (take note Zepheads) as well as some of their own compositions in their own inimitable style, which includes wah-wah lute. All in all it makes for a pretty good cocktail of sea shanty's and folk, that's danceable.
After Bellowhead, I manoeuvred my way down the front for the almighty Blockheads, aided by Phil Jupitus. Opening with the 1977 classic 'Sex and Drugs and Rock and Roll', the set was an absolute stormer. The Blockheads remain the tightest and most intelligent (British) punk/new wave band in the business, a cut above the rest. They knocked out all the hits, 'Clever Trevor', 'What a Waste', 'I Wanna Be Straight' and some newer stuff, which went down a treat with this reviewer. Phil Jupitus himself mocked the chaired folk, and the people dancing gave him a huge cheer for the joke. Set close 'Hit Me With Your Rhythm Stick' lasted for around 10 minutes, with Big Phil introducing each Blockhead individually to rapturous applause. The line up isn't far off the classic Blockheads line up, with Dylan Howe on drums and Gilad Atzmon on Sax. Norman Watt-Roy, Chas Jankel and John Turnbull provide the core of the band, with Watt-Roy still moving like he used to, managing to sweat himself through his suit. Derek the Draw, Ian Dury's (r.i.p) carer has taken over some of Dury's vocals, and the other half is adequately covered by Jupitus, who makes it clear that he is merely a sideshow to the mighty Blockheads, a band he seems in awe of throughout the set.
It would take a tough act to beat the Blockheads, but Alabama 3 know how to work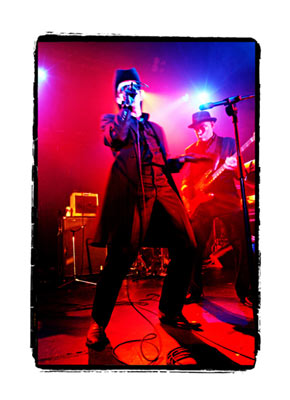 a festival crowd. For nearly 20 years they have been performing their gospel-country-acid house combo to festival crowds and have deservedly earned themselves a reputation as a formidable live band. The band mix preaching from The Very Reverend Dr. D. Wayne Love, vocals from Larry Love, and more vocals from Devlin Love into a hypnotic mix that forces you to dance. Really good fun. The set included the classics 'Woke Up This Morning' and 'Too Sick To Pray' as well as 'Up Above My Head' and 'U Don't Dance to Tekno'.
After Alabama 3 was the band that everyone had been waiting for, The Levellers. The Levellers have the most die-hard following of any band I have ever seen. I feel a mere newbie and I have seen them 6 times! The reason is that they are one of the most enjoyable live bands in the country, with their mix of folk, punk and top notch songwriting. Live, the energy levels are fantastic, and the crowds are always game. The show kicked off with 'England My Home', something that seems to be becoming more and more regular every show, and included the classics 'Sell Out', 'What a Beautiful Day', 'The Boatman', 'The Road' and 'Carry Me', all of which were excellent. The band sounded absolutely on fire during new ones 'A Life Less Ordinary' and storming set closer 'The Cholera Well', but it was penultimate song 'Dirty Davey' that stole the show for me. It's the song that got me into the Levellers, and so holds a special place in my heart. It also doesn't always get played, so whenever those two chords start, a surge of excitement always goes through me. Hears to the Levellers for another 20 years, rounding off a very good day's live music.
Currently listening to K'Naan - The Dusty Foot Philosopher
Sonic Sam
p.s Photos to follow shortly...